Our Story
Nurses Improving Care for Healthsystem Elders (NICHE) is a nursing education and consultation program designed to improve geriatric care in healthcare organizations. The NICHE program of NYU Rory Meyers College of Nursing provides resources for nursing and interdisciplinary teams to achieve organizational goals for the care of older adult patients.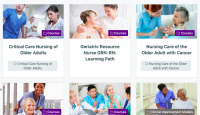 Coordinator Tune-Up
Join us for a live training webinar that will highlight the functionality of our new learning management system. This monthly session is available to coordinators and Knowledge Center administrators on the last Friday of every month. 
Next session:
Managing your Learners from Beginning to End
Friday, April 26 at 12:00 PM EST
Register
Register for upcoming Coordinator Tune-Up
Leadership Training Program
The Leadership Training Program (LTP) is an affordable web-based program for nurse managers and clinical leaders across the continuum of care. Offered several times a year, participants will engage with NICHE staff and faculty, learn data-driven change management approaches, program implementation techniques while earning ANCC continuing education credits.
Learn More
leadership training program learn more link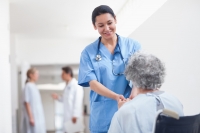 NICHE Webinars
NICHE webinars focus on new, collaborative approaches to practice innovations promoting better outcomes for older adult patients. Earn one hour of continuing education credits.
April 3: Opioid Performance Improvement Project in Nursing Homes: Utilizing a Virtual Collaborative to Improve Quality of Care
April 17: Beers Criteria Update: Inpatient and Nursing Implications
May 22: Dermis Deputy: A Team Approach to Skin Breakdown Prevention
June 5: Does patient participation in purposeful rounding increase patient satisfaction with sustained results?
Register
webinar registration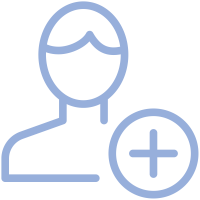 Become a Member
NICHE membership indicates your organization's dedication to improving the quality of care older adult receive. Upon gaining membership, your hospital or long-term care facility will receive access to resources and tools to implement the NICHE program and achieve – and sustain – better care and outcomes for older adult patients.
NICHE membership is only available to facilities that provide care.
Learn More
Learn More button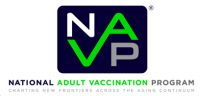 The National Adult Vaccination Program (NAVP)
NICHE joined The Gerontological Society of America to support and promote adult immunization through The National Adult Vaccination Program (NAVP), a multi-stakeholder industry-supported collaboration that has developed a cohesive strategic and policy approach to improve adult vaccination aligned with the recommendations of the Advisory Committee on Immunization Practices of the CDC. From addressing organizational barriers to cost and billing concerns, we want to help you increase your immunization rates this year and beyond.
Learn More
Learn more about NAVP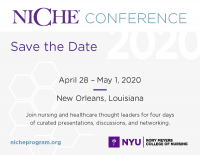 Save the Date: NICHE 2020 Conference
April 28 – May 1, 2020
New Orleans, Louisiana
Join nursing and healthcare thought leaders for four days of curated presentations, discussions, and networking.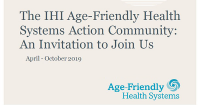 Join the Second Age-Friendly Health Systems Action Community
Healthsystems are invited to join the second Age-Friendly Health Systems Action Community. This free, seven-month learning community run by the Institute for Healthcare Improvement begins April 1. It succeeds the first Action Community of teams from more than 75 systems working together to rapidly test and scale the Age-Friendly Health Systems 4Ms Framework.
Age-Friendly Health Systems is an initiative of The John A. Hartford Foundation and the Institute for Healthcare Improvement in partnership with the American Hospital Association and the Catholic Health Association of the United States.
Previous Slide
Next Slide
56,000
INDIVIDUAL LEARNERS